Discographie - Aufnahmen von Indian Summer
Indian Summer: Whisky, Mystics and Men (1988)
Diese unveröffentlichte Aufnahme, die erste Musikproduktion eines der Fuckin Wild Mitglieder, enthält sowohl einige Coverversionen der Doors, als auch einige der frühen Kompositionen von Rochus Honold. Sie bleibt auch eine der aufwändigsten frühen Produktionen der Bands.
Titelliste
My Private End (5'29)
What You've Been Told (3'51)
Whisky, Mystics and Men (4'27)
She Gets High (Medley) (6'57)
Get Off My Life (3'56)
Umbrian Love (4'43)
Who Do You Love (5'57)
The Cars Hiss By My Window (6'01)
Love Until The End (5'37)
Call On The Sea (1'15)
Mackie Messer (5'24)
Night Run (5'11)
1989 unternahm die Band eine weitere Aufnahmesession für ein Promo mit den ersten Aufnahmen des späteren Fuckin Wild Songs "Love In The City" und des späteren Red Baron Songs "Land's End"; diese Aufnahmen wurden aber nie veröffentlicht.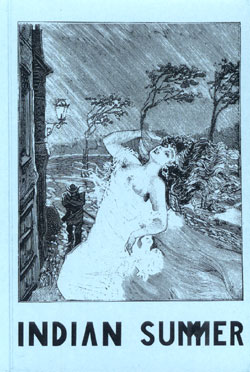 Indian Summer: MCMLXXXIX
Promo Demo von Indian Summer nach dem Bruch mit Sänger Rochus Honold, produziert 1989 mit dem neuen Sänger Carsten; enthält einige der frühen Songs von Rochus Honold.
Titelliste
Good Morning Punk
My Private End
Whisky, Mystics and Men
Love In The City
Land's End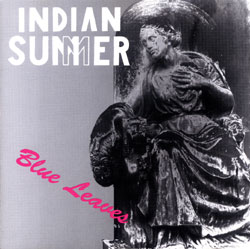 Indian Summer: Blue Leaves 1992
Das zweite offizielle Album von Indian Summer auf CD mit Frank Blues als Sänger. Da Frank sein eigenes Repertoire einbrachte, gibt es auf dieser Aufnahme keine Songs mit Beziehung zu Fuckin Wild.
Titelliste
Snake Charmer (4'57)
Wind and Pain (5'33)
No Name (4'26)
Better You Treat Me Good (3'18)
Sorry (4'05)
Soulfoot (2'31)
Psycho Furs (4'27)
Save Us (7'58)
Girl (0'53)
Spoonful of Heaven (9'05)
Drunken Blues (1'38)
Holy Moments (5'28)
adding up to a total playing time of 55'0
X
Titel
Bitte aktuelle Flash Version installieren
Copyright © 2006 by Fuckin Wild • Website by mikroH Websolutions