Discography - Records of Indian Summer
Indian Summer: Whisky, Mystics and Men (1988)
This unreleased record was the first musical production of any of the Fuckin Wild members, featuring some cover versions of songs of The Doors as well as some early compositions of Rochus Honold. It also remains one of the most expensive early productions of the bands.
Track list
My Private End (5'29)
What You've Been Told (3'51)
Whisky, Mystics and Men (4'27)
She Gets High (Medley) (6'57)
Get Off My Life (3'56)
Umbrian Love (4'43)
Who Do You Love (5'57)
The Cars Hiss By My Window (6'01)
Love Until The End (5'37)
Call On The Sea (1'15)
Mackie Messer (5'24)
Night Run (5'11)
In 1989 the band did another recording session for a promo including the first recorded versions of later Fuckin Wild song "Love In The City" and the later Red Baron Song "Land's End", which was never released.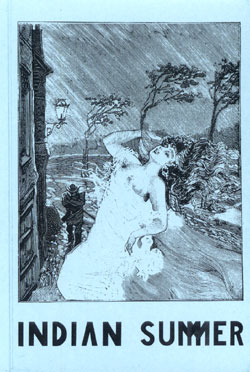 Indian Summer: MCMLXXXIX
Promo demo of Indian Summer after the breaking with singer Rochus Honold, produced in 1989 featuring singer Carsten, containing some of Rochus Honolds early songs.
Track list
Good Morning Punk
My Private End
Whisky, Mystics and Men
Love In The City
Land's End
Indian Summer: Blue Leaves 1992
The second official album of Indian Summer on CD, featuring Frank Blues as singer. Since Frank has brought with him his own repertoire, there are no more songs related to Fuckin Wild on this record.
Track list
Snake Charmer (4'57)
Wind and Pain (5'33)
No Name (4'26)
Better You Treat Me Good (3'18)
Sorry (4'05)
Soulfoot (2'31)
Psycho Furs (4'27)
Save Us (7'58)
Girl (0'53)
Spoonful of Heaven (9'05)
Drunken Blues (1'38)
Holy Moments (5'28)
adding up to a total playing time of 55'0
X
Titel
Bitte aktuelle Flash Version installieren
Copyright © 2006 by Fuckin Wild • Website by mikroH Websolutions