Hello ! Welcome to our Psychedelic Music Fanpage.
---

The Fuckin Wild are a psychedelic rock band from Munich / Germany.
This homepage is growing from day to day. So visit us often.
If you're interested in further information, please contact us via e-mail.

---
---
from left to right: Frank, Anja, Rochus, Tobias
About the band
The group was founded in the year of 1993 in Munich, Germany. It consists of four musicians, namely front-woman Anja Fritzsche (Vocals, Percussion),Rochus Honold (Guitars and exotic string instruments, percussion), Frank Daiminger (Bass) and Tobias Teschner (Drums). All four of them are strongly dedicated to the psychedelic sounds of the late sixties and the early seventies, which is reflected in their music. Here's a short biography of the band.
Front cover of record 'The Ravens Cry'
Album The Raven's Cry (C) 1996:
This is the front cover of the bands 1996 released Album, called 'The Raven's Cry'. The CD contains about 60 Minutes of pure psychedelic Music in 9 tracks.
Download a Soundsample (.mp3) here.
Or take a look at the strongly imaginative lyrics of the psychedelic folk-rock song 'Bring Back The Light'
Or read some reviews of the album here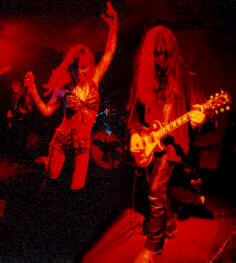 Anja & Rochus on stage during the album release party in 1996 at the Loft Munich
The Album 'The Raven's Cry' is available at:
Copyright © 2006 by Fuckin Wild • Website by mikroH Websolutions